Carabiners
We stock two types of carabiner.
The midi carabiner is a light weight, wire-gate carabiner, suitable for midi kites and pilots. Whilst it has a small hook to retain the wire, it is not a sharp hook that is inclined to snag on lines. This carabiner is now standard issue for the pilot connection point on midi and maxi kites.
The locking maxi carabiner is a heavy duty carabiner with a quick-acting locking mechanism on the gate. To unlock the gate, simply turn the grip by 90 degrees. When you let go of the carabiner, it automatically closes and locks. Unlocking action is smooth and easy and can be done easily when holding the carabiner in one hand. Note however, that if you fill the mechanism with sand, it wont work so smoothly, so keep it clean on the beach.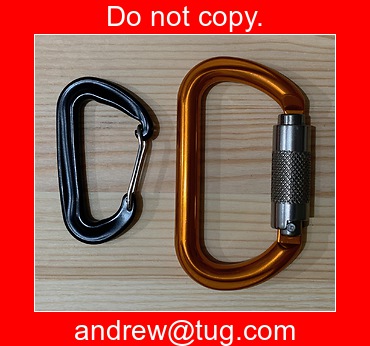 Note that our carabiners are intended for kite flying, not climbing or any safety-critical application.
Item
Price
Midi Carabiner
Javascript Required
Maxi Quick-lock Carabiner
Javascript Required
Pick an appropriate currency:
Talk to us about custom, ready to fly bundles (typically including kite, main line, pilot kite, pilot line and compression bag to suit your needs). All prices subject to confirmation. Prices in GBP (£), Euro (€), PLN or SEK are VAT paid. Shipping added at cost. Non European prices only available outside the European Union. Additional taxes and fees may be payable in some territories. Errors and omissions excepted. The items above are not toys, they are not intended for use in play by children under 14 years of age.