Disabled Wiff-Waff
I expected that we could ignore the Paralympics and pick up some tickets at the last minute, but everything is sold out. It took determination and quick reactions on the web site to get a couple of tickets to the Excel centre, mid-week. It was well worth the trip.
There are "Games makers" all over London, ready to help anyone who wants it. They really make a difference. The whole place has a party atmosphere.
The table tennis was excellent. Mostly we watched the semi-final between GB and Poland. A close match to the last but on the end, the Poles were the victors.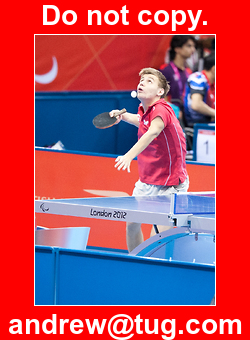 I caught an odd thing in the camera. Spot the difference between these two photos, taken 19 seconds apart:
There were lots of different nationalities having a great time:
View from the Royal Victoria Dock Footbridge on the way home: